I have not been on here for a while so I decided to swing by and make sure my journal was still here.
The Boneyard BOOtique for Scary Christmas presents!
The Country Store for Santa Claus decorations!
The Pirate Santa CafePress Shop for Pirate Santa clothes, housewares, ornaments & more!
The Vintage Glass Shop for cool bottles!
And our Ebay store for comic books, collectibles, & more!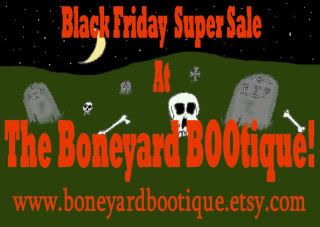 Check out :
I've been working on stuff for The Boneyard BOOtique.
http://www.boneyardbootique.etsy.com
I've been doing housework and work at my store.
I got a new digital camera.
My Flickr account:
http://www.flickr.com/photos/dagon-and-spiderbaby/
I'm 29 now.
I got a handmade card from SpiderBaby and a card from our pets. SpiderBaby also made me a cool magnet for our fridge.
My parents gave me a strawberry with cream cheese icing cake, a card, and $50. I bought a basket to catch minnows in, for fishing, and a new Spongebob dvd with the money.
SpiderBaby's Grandparents fixed us a casserole for supper so I wouldn't have to cook.
Here lately I've been working a lot in my garden. I've got all kinda vegetables planted and I also planted some trees, bushes, and flowers all over my yard.
I've been doing lots of stuff around my house, getting ready for summer.
I've been putting lots of stuff up on ebay to sell and mailing stuff when it sells.
I've been doing yardwork. I planted a vegetable garden and flowers, trees, and bushes around my yard.
I got 2 new puppies, Thorn & Nanook. I found them in the woods.
I've been getting stuff ready to film my first short film. I'm just waiting for some stuff to come in the mail now.
Last night I found some baby opossums scattered in the road after their mom had been run over. I got all the ones that were alive and have been taking care of them. I hope they live.
I've been working on custom pendants, for SpiderBaby to use on the jewelry she is making to sell, and other jewelry and hair accessories.
Check out her Etsy shop:
Check back often for new items!
I've also been fishing, reading several books, watching lots of horror movies, and spending lots of time with my SpiderBaby.
I've been really busy lately.
Current Location:

DragonWyck Manor

Current Mood:

artistic

Current Music:

Songs from various Horror MOvies!
I have listed some new auctions up on ebay!
Here lately I have been working on the costume for my movie "It Came From The Swamp". I have almost got it the way that I want it. On top of that there has been tons of stuff to do around the house. I have also been posting a lot of stuff on Ebay. I've still got a ton of stuff to post. We got way to much stuff, got to get rid of some of it. I have been shopping around for a good digital video camera, a digital still camera, a good video editing program, and an adapter so I can connect my tape cameras (hi-8, VHS-C) to my computer. On top of everything else I've been working in our yard. And the bad thing is it's only going to get more hectic in the coming weeks. At least most of the stuff is fun stuff though. :)
Current Mood:

busy

Current Music:

Testament
I posted several (16 listed right now) Ebay auctions this weekend. I will be posting more stuff this weekend and all month long. I have all kinds of stuff to sell. So check back often and see what's listed.
Right now there are several OOAk & handpainted Christmas ornaments listed! Also some collectible cars, Nascar, an action figure, and Heroclix.
You can get to all my listing and check my feedback here:
http://myworld.ebay.com/spookieandsugar
I will have comics, action figures, and other stuff posted this weekend.
*All money made from these auctions goes to fund my art projects.
Half of my currently posted auctions are ending soon!